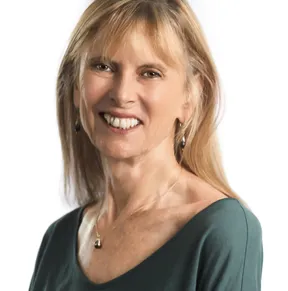 I am Virginia Lee Hernly and I was born in San Diego, CA. I went to Palmer College of Chiropractic West in San Jose, CA and graduated in 1983. I live on the coast, north of Half Moon Bay, in Montara, and have been a part of San MateoCounty for over 25 years.
I was originally inspired to become a healing practitioner during my recovery from a bicycle injury when I was 23. I landed on my head, breaking my jaw and injuring my neck. I began having debilitating headaches and blackouts, and so sought traditional medical care - to no avail. I started seeing a chiropractor in Santa Rosa, CA and for the first time in two years experienced relief; not only was my pain lessened, but I also felt altogether healthier.
In that office, I met and began working for a chiropractor from El Salvador. As I watched his many patients improve with chiropractic care, I became enthusiastically motivated to become a chiropractor myself.
I've chosen to devote my life to the healing arts because I want to support people in good health using holistic methods rather than the more traditional drugs and surgery. I want everyone to experience healing and optimum health the way I have! I'm so grateful I chose to become a chiropractor because I've been able to witness the miracle of human health potential on a daily basis. I believe with all my heart in the principle of natural healing, which is that healing comes from within. The intelligent life force with which we are all born directs health and healing from above-down and inside-out. When this functions without interference, our innate intelligence is expressed fully.
Mind-Body-Spirit: what we think and feel affects our health, what we eat and breathe and take into our bodies affects our health, how we're exposed to energies (electromagnetic fields, etc), toxins, parasites, etc affects our health. The nervous (brain and nerves) and meridian (energy) systems are affected by all of these, and this is the basis for how well we function. I apply my skills and knowledge to release blocks within the nervous and meridian systems, allowing for balance in the body.
I believe with all my heart in how I practice, and always strive to improve it. I believe I give an excellent service for a fair fee. I want to help as many people as I possibly can. I want you to refer and continue to refer people to me because you want others to experience an improved quality of health on all levels the way you have. I want you to feel enthusiastic and excited about your new vitality, growth and health, and for others to have the same. I have established my clinic in this particular community because of what a wonderful place it is to live, how well received my work has been over the years and the warmth of the people. The whole purpose of this clinic is to help people be healthy - as many people as I can - to facilitate ease and well-being on an emotional, physical and spiritual level! What seems to make my practice unique is my wholistic approach working with emotions, structure, nutrition and detoxification. My personal promise to you is to be present with you in what your needs are, and to help you to the best of my abilities so that you may live a transformative life.